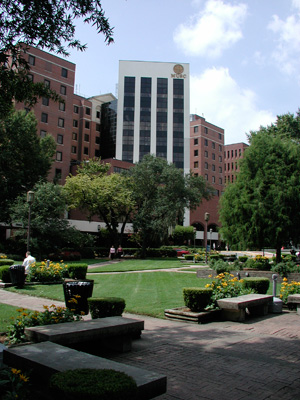 THE MEDICAL UNIVERSITY OF SOUTH CAROLINA is recognized as a leading research and teaching medical university. It has grown from a small private medical school in 1824 to one of the nation's top academic health science centers, with multiple hospitals, centers of excellence, and six colleges that train approximately 2,600 healthcare professionals per year. As the largest non-federal employer in Charleston, the university and its affiliates have collective annual budgets in excess of $1.7 billion. MUSC operates a 750-bed medical center, which includes a nationally recognized Children's Hospital, the Ashley River Tower (cardiovascular, digestive disease, and surgical oncology), and a leading Institute of Psychiatry.
MUSC is ranked in the upper quartile of all freestanding academic medical universities. The university's students - approximately 320 undergraduates and 2,210 graduate and professional students, along with 2,000 faculty and 1,200 staff members work together to support multi-disciplinary study, academic research and public service. The university maintains state-of-the-art facilities on its 82-acre campus. MUSC's academic enterprise features interdisciplinary programs and centers. Currently, MUSC's endowment totals $181 million. The Medical University of South Carolina is in the midst of an exciting period of growth with recent NCI designation for the Hollings Cancer Center, a CTSA grant, the new James E. Clyburn research complex, and clinical outreach facilities currently under construction (to be completed in 2012).
MUSC supports biomedical investigation and experimentation aimed at discovery and interpretation of facts as well as the clinical application of this new knowledge. The University provides a supportive environment for research and developmental endeavors which range from basic biomedical research through educational, behavioral, clinical, and applied research to traditional health services research. As a provider of health care, MUSC encourages the relationship between biomedical research and its clinical application in managing patients. As an academic medical center affiliated with a VA hospital, MUSC faculty integrate the latest developments into the curricula of biomedical scientists and health care providers. MUSC investigators model the critical thinking abilities, problem solving skills and lifelong learning behaviors necessary for innovative health care.
MUSC garnered a record amount of research funding in FY11. Total grant support from outside sources topped $238 million. Research awards surpassed the $200 million mark for the fourth consecutive year, with a $4.4 million dollar increase over the prior year. The record funding includes more than $117 million from the National Institutes of Health. Six new SmartState Endowed Chairs joined MUSC this past year as part of the Centers of Economic Excellence Program (http://www.sccoee.org/) and relocated their internationally recognized research programs to Charleston.
The Medical University serves as the "home" institution for the South Carolina Area Health Education Consortium (AHEC), a statewide consortium of teaching hospitals and rural health education centers. Since 1972, South Carolina AHEC has influenced the education, supply, retention, and geographic distribution of health care professionals statewide, particularly in smaller, underserved communities. South Carolina AHEC programs include undergraduate and graduate level medical education, nursing, allied health, pharmacy, and dental education, as well as all family practice residency programs in the state. South Carolina AHEC maintains partnerships between the university and communities across the state.
Browse these sites to learn more about the Medical University of South Carolina