MUSC Hospital and Clinics Overview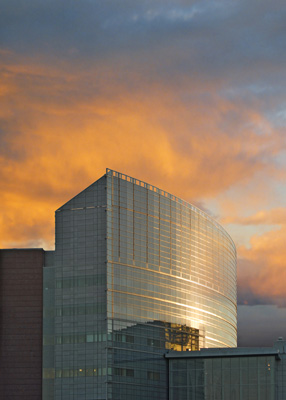 MUSC Hospitals and Clinical Care Facilities
Medical University Hospital Authority (MUHA): In May 2000, the South Carolina General Assembly created the Medical University Hospital Authority to enhance management flexibility and operational efficiency for the university's hospitals and clinics. MUHA, a component unit of MUSC, owns and operates the clinical teaching sites of the university and serves the State of South Carolina as a principal diagnostic and treatment referral center.
University Hospital is a 709-bed academic medical center and the flagship adult inpatient facility of the system. The Medical University Hospital is a tertiary and quaternary academic institution, supported by respected research-based medical and nursing schools, which deliver both routine inpatient care and highly specialized medical treatment and surgical procedures. The hospital is also home to the region's only Level I trauma center and the state's most comprehensive neonatal intensive care unit. The transplant service line is the only one in the state. A principal referral center for physicians and patients throughout the region, MUSC University Hospital and Clinics consistently are recognized for clinical results and patient satisfaction. MUSC's hospital market share has increased significantly over the last five years; it now captures 40 percent of the local market. For most of the past 10 years, MUSC has the greatest regional provider preference in the tri-county market area. In 2010, U.S. News & World Report's America's Best Hospitals named MUSC's Medical University Hospital as one of the best hospitals in the country in six areas: gastroenterology; kidney disease; ear, nose and throat; gynecology; orthopedics; and rheumatology. This marks the 13th consecutive year that GI disorders made the list. Additionally, nearly 300 MUSC physicians made the prestigious Best Doctors in America list. The Medical University Hospital Authority has begun a multi-phased approach to replace much of its principal patient care facilities, a project planned for completion in stages over the next 20 years. Phase I of the project involved building Ashley River Tower hospital, which is comprised of a four story diagnostic and treatment center, a seven-story hospitality (bed) tower, and a garden atrium uniting the two sections of the building. Phase I was completed in FY 2008.
Ashley River Tower opened in February 2008 and will continue MUSC's long history of providing excellence in patient care. This 641,000-square-foot, 156-bed hospital houses the inpatient units for Hollings Cancer Center, the Digestive Disease Center and the Heart and Vascular Center service lines. This hospital is designed to accommodate the most modern medical equipment available and provide the latest technologies with a staff of world-renowned physicians in a setting that rivals the comfort of a fine hotel. The facility includes three intensive care units; laboratories; interventional radiology and endoscopy suites; a specialized chest pain center; and nine operating rooms with integrated IT systems and specialized equipment for vascular surgery. Amenities include private rooms, concierge service, valet parking, dedicated family lounges, wireless capabilities, retail shops and convenient dining.
MUSC Children's Hospital is a 128-bed nationally recognized, state-of-the-art facility serving as the pediatric teaching hospital of MUSC's College of Medicine. Individualized pediatric teams can be created instantly by combining the expertise of diversely trained staff pediatricians. Children's Hospital includes a Level III neonatal ICU and a pediatric ICU staffed exclusively by trained pediatric critical care teams. The hospital is also home to the South Carolina Children's Heart Center, an adjunct of the MUSC Heart & Vascular Center. The 12-bed pediatric cardiac intensive care unit is the only unit of its kind in the Carolinas, and one of a few in the country, dedicated exclusively to pediatric heart care. Comprehensive care is provided for complex medical and surgical patients from newborns to young adults. Children's Hospital has earned top ranking from U.S. News & World Report, American Health magazine and The Best Doctors in America. Its NICU is named as one of the country's top 10.
The Ralph H. Johnson VA Medical Center has enjoyed a collaborative and robust relationship with MUSC and the Department of Medicine for many years. The 117-bed hospital serves more than 40,000 veterans in 15 counties along the South Carolina and Georgia coastline.
The Institute of Psychiatry provides the most thorough, state-of-the-art care available for a full range of psychiatric problems. Nationally-recognized psychiatrists, psychiatric nurses, social workers, psychologists, and researchers work together to provide the most promising and cutting edge psychiatric intervention available. The Institute has been identified as one of the nation's top 10 psychiatric research centers in guiding the search for treatments of depression, anxiety, schizophrenia, problems with drug and alcohol addiction, and many other disorders. Most services are available on an outpatient, partial hospitalization or inpatient basis for youth, adult, and geriatric patients.
Centers of Excellence. MUSC is home to a number of centers for specialized care that include: Digestive Disease Center, Heart & Vascular Center, Hollings Cancer Center, Musculoskeletal Institute, Storm Eye Institute, Transplant Center, Neuroscience Institute, and Women's Health Services.
MUSC Physicians, the physician group of the MUSC hospitals, provide services ranging from prevention and wellness to highly specialized care at 200+ outpatient clinics on the MUSC campus and at 100 locations in the community. MUSC Physicians has more than 700 attending physicians that are faculty members of the College of Medicine. UMA has the widest range of specialty care available at any medical center in South Carolina. This group serves as a resource to attract and support a superior clinical faculty for the education and training of undergraduate and graduate medical and health-related professionals. Patient care is the #1 priority. The success of its operations is dependent on its continuing successful relationships with all patients. Every employee, either directly or indirectly, plays a part in meeting the patients' expectations for high quality care and a pleasant and positive experience at each MUSC Physicians facility.